Keukenhof - Attraction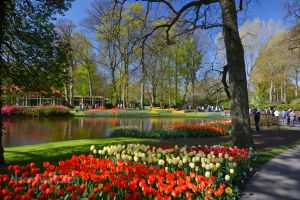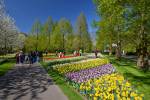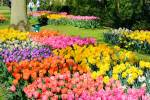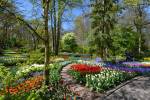 For 60 years now, Keukenhof has been the most beautiful place in the world, where spring bursts out in all of its colourful majesty. Here you can find inspiration and relaxation in a magnificent park environment. In addition to the millions of blooming flower bulbs and fantastic flower shows, Keukenhof has the largest sculpture garden in the Netherlands and is the most photographed spot in the world. Come visit Keukenhof!
The beautiful Keukenhof gardens are the largest flower gardens in Europe. Every spring, from mid-March to mid-May, the Keukenhof gardens open their doors to reveal a spectacular landscape of vibrant colors and flowery scents. Due to the limited opening times of the Keukenhof gardens, tickets are in short supply. By booking here, you'll enjoy fast-track admission to Keukenhof gardens, which means you can skip the queues at the entrance. Make your reservations now to ensure availability and discover this world-famous attraction!
When is the Keukenhof open?
Keukenhof is open from Thursday 23 March to Sunday 14 May 2023. Every day from 8:00 AM – 7:30 PM.
Discover the beautiful Keukenhof gardens
The famous Keukenhof gardens attract more than a million visitors every year. The design of Keukenhof gardens is also different every year, which offers a unique experience on each visit. There are more than seven million flowers of all colors, shapes and sizes. The Keukenhof gardens are located just outside the town of Lisse in the Netherlands, about 37 kilometres away from the center of Amsterdam. They are surrounded by long, colourful strips of tulip fields, which are one the country's most photographed landscapes. Escape the city and unwind as you experience the beauty and tranquility of this world-renowned flower park.
When is the best time to visit Keukenhof?
Flowering at Keukenhof parallels that in nature. That is why it is not possible to say in advance which time is best to visit Keukenhof. The crocuses, daffodils, hyacinths and early tulips flower at the start of the season. Other flowers bloom later in the season such as the (larger) tulips. Our pavilions feature entrancing flower shows from the first to the last day of the season.
Want to enjoy the peace and quiet of Keukenhof?
It is less busy before 10.30 and after 16:00. The light of the morning and evening sun allows you to take wonderful photographs. It is also less busy on Monday, Tuesday and Wednesday than on the other days of the week.
For information:
Stationsweg 166a, Lisse
tel. +31 252 465 555
web.
More information