Nature Reserve South Kennemerland
Varied dunes landscape, from waving beach grass along the coast to varied inland forests, originated from old country estates. National Park Zuid-Kennemerland (South Kennemerland) is truly one of the finest sea dune areas of Europe. Nowhere else you will find such a rich cross section of the flora and fauna that the dunes have to offer. From the waving beach grass along the coast, to the varied inland forests. These forests largely originated from the old country estates, in which was planted and gardened. Over the years, these wild gardens have overgrown to impressive wilderness, where it's now lovely to hike and explore. The Forestry Commission has three of these estates in administration: Duinvliet, Elswout and Middenduin.
Whoever wants to enjoy the richness of the dune nature, cannot exclude National Park South Kennemerland. The variation in landscapes, flora and fauna is unknown here. From the poor, calcareous dunes by the sea, through wet dune slacks, to species-rich forests.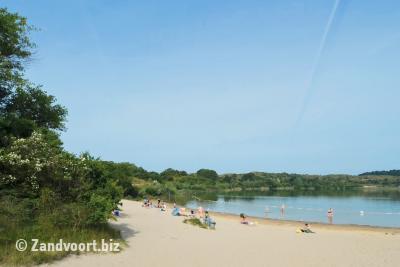 The flora and fauna breathe along with this varied landscape. So you find dune lizards, woodcock, deer and foxes, and in some bunkers live bats. Lovers of flora are treated to as many as 600 plant species, from reeds to orchid sea holly and from abele to balsam poplar.
Overgrown landscape gardens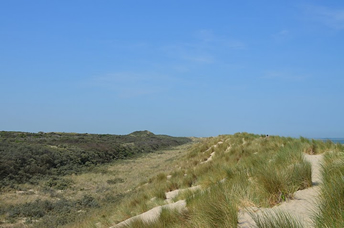 The forests in the lee inner dunes area in National Park Southern Kennemerland are largely originated from wild landscape gardens of old estates. Wealthy townspeople built residences with beautiful, sometimes exotic landscaped gardens in the 17th century here. These gardens have been severely neglected over the centuries, so exciting, diverse forests were created.
Duinvliet, Elswout and Middenduin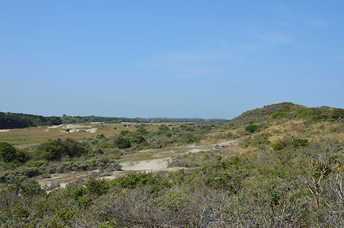 Forestry Services has three old country estates in management; Duinvliet, Elswout and Middenduin. Duinvliet is a small estate; an old dream house is visible. Here hikers can wander along winding lanes with lovely stately beech and oak.
Nature Reserve Middenduin currently consists of steep dune gorges with a fairytale Duinrel (a Dutch word for a stream between dunes) and slope forests where it's lovely to climb.
Because of its great cultural and historical value, country estate Elswout is a national monument. It is also home to many plants and animals. And an oasis of calm for those looking to escape the city. For a stroll, a picnic lunch, a high tea, a puppet theatre or a tour with the forester.
National Park
National Park South Kennemerland is one of the twenty national parks in the Netherlands. Together, they tell the story of the Dutch countryside. Full details of the Dutch flora and fauna can be found in the parks. The National Parks are special natural areas that have been appointed by the Ministry of Ministry of Economic Affairs, Agriculture and Innovation. Owners, managers and other stakeholders are jointly responsible for protecting and developing the quality of nature.
Flora and Fauna
It can't be seen, but it can be heard: the tawny owl. In the dark, its sounds can cry far through the night. Thanks to its particularly keen hearing it catches mice, small birds, moles, rats, frogs, toads and insects. The owl prefers to breed in a park like setting with mature trees, water and pasture. The birds are a couple for life and nest in hollow trees, abandoned nests and holes or cracks in old walls. In March they nest two to five eggs.
In the park wood of country estate Elswout, there are 250 years old beech trees. In spring, there are abundant quantities of land plants. For example, the bright yellow spring sunflowers, the stem-less primrose, wild garlic and the rare Haarlem chimes. Round stins plants bloom almost all year round.
Fallen trees remain and form a breeding ground for fungi, such as punk. Hole breeders, such as woodpeckers, pigeon hole, tawny owls, nuthatches and short-toed treecreeper, live in the old hollow trees. Bats sleep there. The bats hibernate in the ice of the estate.